Four Collingwood residents and members of the South Georgian Bay World BEYOND War chapter joined about 120 peace activists in blocking the entrances to the annual defence and security conference in Ottawa, hope it helps more people learn about Canada's war deals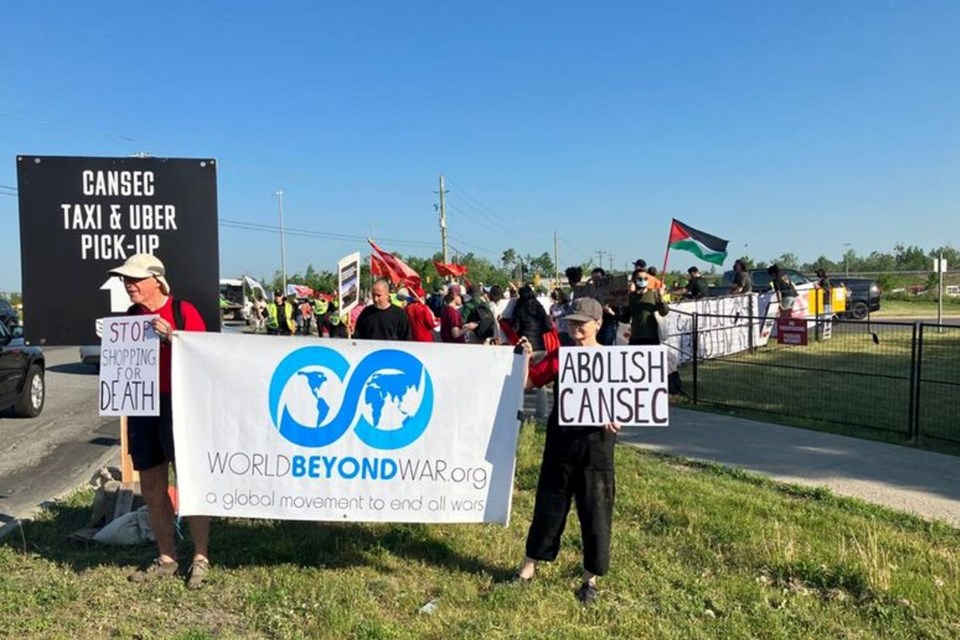 Among them was a contingent of Collingwood-based Pivot2Peace, part of World Beyond War, including Helen Peacock and her husband Dave, and Frank McEnaney and his wife Gillian.
"It was technically not a protest, it was an action because the intention was to delay and disrupt," said Frank. "We were a very small, motley crew … there was about 120 of us and more than 11,000 attendees. We were quite pleased we delayed it for about an hour and a quarter."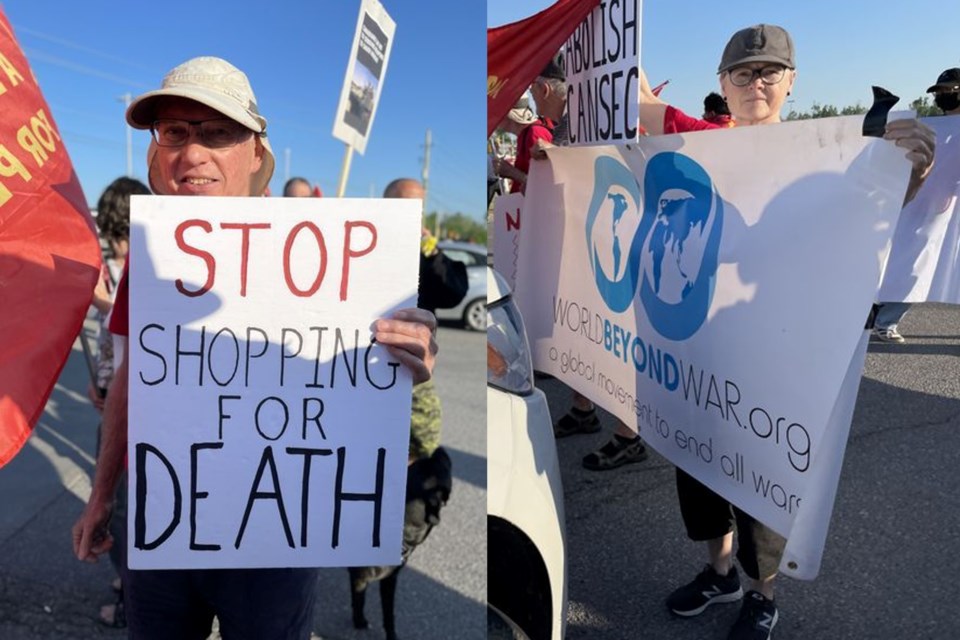 He and Gillian said the Canadian defence minister had to delay her speech by about an hour and cars were backed up at three entrances to the EY Centre for about three kilometres.
Frank said police didn't stop the group from preventing cars from entering — they did so by walking back and forth across the road carrying signs that read: "Abolish CANSEC," "Make Canada a Zone for Peace," "Stop shopping for death," and "Stop profiting from war."
After about 30 minutes, police worked out a deal with the activists allowing them to block the road for 40 seconds, then clear the road to let cars through for 40 seconds.
Frank and Gillian said they had a simple message in mind.
"Close it down," said Frank.
"Canada has this image of ourselves as a sweet, peace-loving country, and we're brokering tremendous deals … I think it's a disconnect," said Gillian. "If you just don't look at it, you can ignore it, but once you know it, I think you have to think about it."
CANSEC has been held annually in Ottawa since 1998 and is put on by the Canadian Association of Defence and Security Industries (CADSI), which is an association representing the industry to government and offering platforms and support to connect companies in the defence and security industry with customers.
According to the website, the 2023 CANSEC event is dubbed as a global defence and security trade show, which promises attendees will meet thousands of industry professionals looking for international business opportunities. For exhibitors, CANSEC brings together "potential buyers from across Canada and worldwide."
The site states there are 150,000 square feet of exhibitor space, more than 280 defence and security exhibitors, more than 30 MPs, Senators and Cabinet Ministers, and more than 1,300 business-to-business and business-to-government meetings.
The exhibitor list is extensive from artificial intelligence and cybersecurity to weapons and munitions manufacturers like Colt Canada, Raytheon Technologies, and Lockheed Martin.
Canada's minister of national defence, Anita Anand, delivered a speech during the conference following CADSI CEO Christyn Cianfarani.
Anand commended CADSI for putting on "a fantastic conference" for 25 years and noted that there were 900 people in the room during her speech and an estimated 13,000 delegates attending the conference.
Both Cianfarani and Anand cited the war between Russia and Ukraine as an example of Canadian defence organizations and government working together to be "part of something bigger."
Cianfarani also noted the role the defence industry played in getting personal protective equipment made during the COVID pandemic and in helping to set up field hospitals, then in "putting Canadians to work" during the recovery period.
"These past 27 months have shown me exactly what Canada's defence, security and cyber industries are capable of," stated Cianfarani in her speech. "And you've proved beyond the shadow of a doubt that we are at our best when called upon to be part of something bigger; to lend our creativity, talent, and expertise to the shared defence of this nation, its people, and our allies."
Both also followed the theme of modernization.
"Times of change can be times of opportunity," said Anand.
She provided an update of the government's procurement projects for the navy, air force and army, noting Irving Shipyard is constructing a new fleet of 15 Canadian surface combat ships, and the government is spending $5.7 billion on six new Arctic and offshore patrol ships.
This year, said Anand, the army will receive the first of the planned 360 armoured combat support vehicles (built by CANSEC exhibitor General Dynamics Land Systems Canada).
Those are in addition to the 39 vehicles sent by Canada to Ukraine. There will be anti-tank guided missile systems, uncrewed aerial systems and short-range air defence systems delivered to the Canadian Armed Forces in Latvia, explained Anand.
There's also the 88 F-35 fighter jets purchase announced in January.
The purchase of the fighter jets, in particular, has been a point of contention for Gillian and Frank, who spend one Friday a month in front of MP Terry Dowdall's Collingwood office marching and holding signs in protest of the purchase.
"That's just an issue we picked," said Frank. "It's so egregious, spending $77 billion when the country's burning."
"There's so much, and we've just decided to pick that," said Gillian.
The two also argue there's an environmental angle to their protesting the jet purchase because of the emissions from military vehicles, in particular, jets.
Both Gillian and Frank have been peace activists for many years. Frank was part of the protests in the 1960s during the Bomarc missile crisis.
Though life, family and career kept him busy, he has returned to peace activism in retirement.
Gillian is the child of two veterans of the Second World War.
"I started to realize a lot of my difficulties were from war," she said. "What happened to "never again"? I'm taking that to heart."
She said she remembers when she was a teenager and she asked her dad why he signed up for the war. He was one of the very few Spitfire pilots who survived. At one time during the Second World War, the average life expectancy of a Spitfire pilot was four weeks.
"I said, 'did you go off to stop Hitler from killing Jewish people?' And he said, 'no I didn't think about that,'" she said. "I see [my parents] as victims. My mom lost her brother."
As for the argument that Canada needs to defend itself, both Gillian and Frank say that's not a good reason.
"All wars end in negotiation anyway," said Gillian. "Negotiate now! But they seem to have to kill a lot of people, non-generals and civilians, before they're prepared to negotiate, but they will have to negotiate."
"Politicians and generals and weapons manufacturers don't get killed in these wars," said Frank. "It's the guys you see at the community centre."
Guys like Gillian's Uncle Ian, who was a pianist and joined the army during the Second World War. His favourite movie was Snow White. He was 19-years-old when he was flattened by a tank.
"I can't use the word hero, that's just tragic," said Gillian. "Let's just stop."