Introduction
By Anthony J. Marsella and Kathleen Malley-Morrison – TRANSCEND Media Service
26 Jan 2018 – The annual memorial holiday on January 15, 2018, celebrating Reverend Martin Luther King, Jr.'s enduring contributions to peace and justice, has passed.
The events of the day linger in our minds, eternally grateful for Reverend King's efforts to free people and nations from the brutal oppressions imposed by governments, nations, societies, organizations, and individuals, who willfully continue to support and sustain the evils of racism, prejudice, violence, and war.
Reverend King's commitment to freedom from oppression and abuse compel us to continue his efforts far beyond the words, songs, and promises of his day.
To this end, we, (i.e., Kathy Malley-Morrison & Anthony J. Marsella), the authors of this article, have chosen to demonstrate our responsibilities to continuing the work of Reverend King, by identifying 100 living peace and social justice leaders and models.
The number is arbitrary for there are tens of thousands more who deserve citation. Many are not listed, but will be listed in future efforts. Do not be dismayed! Patience! We believed it essential to create a dynamic list of living peace and justice activists and advocates to encourage peace and justice work.
The individuals included on our list are from all genders, ages, roles.  They are from many nations, ethnocultural groups, and "races."  We sense a rising tide of commitment to peace and justice, and an intolerance of the corruption, cronyism, and asymmetric power sustaining current abuses.
We consider our efforts a beginning, and we will continue to publish new lists. This is because the struggle for peace and justice is endless, and each day new people are rising to the call.
This is as it should be, and must be, until such time the forces of oppression yield to the forces of good; evil will continue, but human virtue, endowed in conscience will triumph! While the work of many included will be recognized, some of those listed may not be apparent. We have attached website information after each name to offer insight into their efforts.
Before sharing our list, however, we wish to include two charts offering graphic displays of essential material for understanding and appreciating living leaders.
CHART 1: PERSONAL CHARACTERISTICS OF PEACE AND JUSTICE LEADERS AND MODELS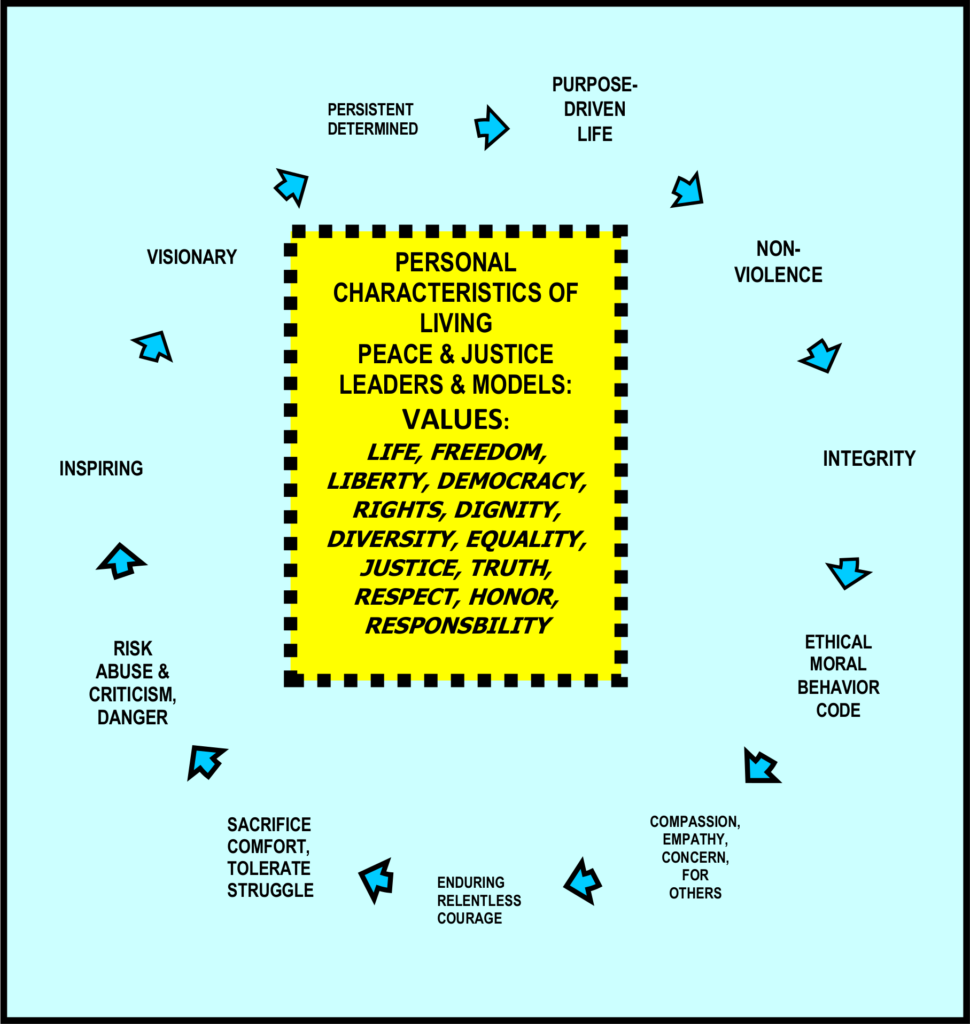 CHART 2: ROLES AND STATUSES OF LIVING PEACE & JUSTICE LEADERS AND MODELS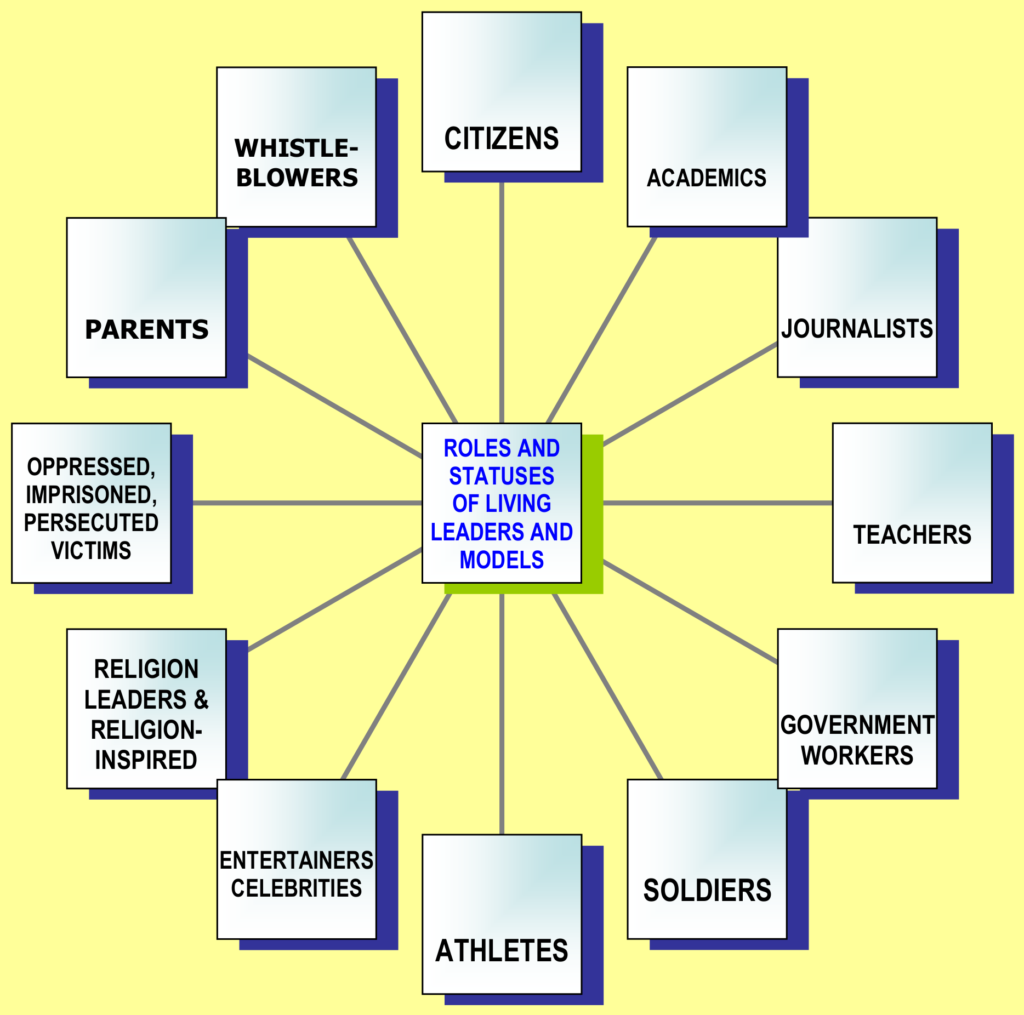 TABLE 1:
One Hundred Living Peace and Justice Activists, Advocates, Models
This is our continuing contribution to the legacy of Reverend Martin Luther King, Jr.  His work continues in the lives of those who share his commitments.
______________________________________________
Kathleen Malley-Morrison, Ed.D., Director of the Group on International Perspectives on Governmental Aggression and Peace (GIPGAP), is Professor Emerita of Psychological and Brain Sciences at Boston University. She is the author or coauthor of several books, including Family Violence in a Cultural Perspective, and Family Violence in the United States, as well as editor of the four volume series: State violence and the right to peace: An international survey of the views of ordinary people. She has authored numerous articles and book chapters on violence within relationships and nations. Her current efforts to advance peace and social justice are centered primarily in her blog, Engaging Peace. http://engagingpeace.com. She can be reached at: kathiemm@engagingpeace.com

Anthony J. Marsella, Ph.D., a member of the TRANSCEND Network for Peace Development Environment, is a past president of Psychologists for Social Responsibility, Emeritus Professor of psychology at the University of Hawaii's Manoa Campus in Honolulu, Hawaii, and past director of the World Health Organization Psychiatric Research Center in Honolulu.  He is known internationally as a pioneer figure in the study of culture and psychopathology who challenged the ethnocentrism and racial biases of many assumptions, theories, and practices in psychology and psychiatry. In more recent years, he has been writing and lecturing on peace and social justice. He has published 21 books and more than 300 articles, tech reports, and popular commentaries. His TMS articles may be accessed HERE and he can be reached at marsella@hawaii.edu.
This article originally appeared on Transcend Media Service (TMS) on 29 Jan 2018.
Anticopyright: Editorials and articles originated on TMS may be freely reprinted, disseminated, translated and used as background material, provided an acknowledgement and link to the source, TMS: In Pursuit of Peace and Justice: 100 Peace & Justice Leaders and Models, is included. Thank you.
If you enjoyed this article, please consider a donation to TMS and click here.